Amazon is paying influencers to use its TikTok competitor, 'Inspire.'
Amazon is the latest platform to recruit influencers to post short vertical videos in order to compete with TikTok and attract customers.
The e-commerce giant introduced the new feature, Inspire, in an attempt to re-create something like TikTok, which is a huge driver in ecommerce, particularly in eastern regions.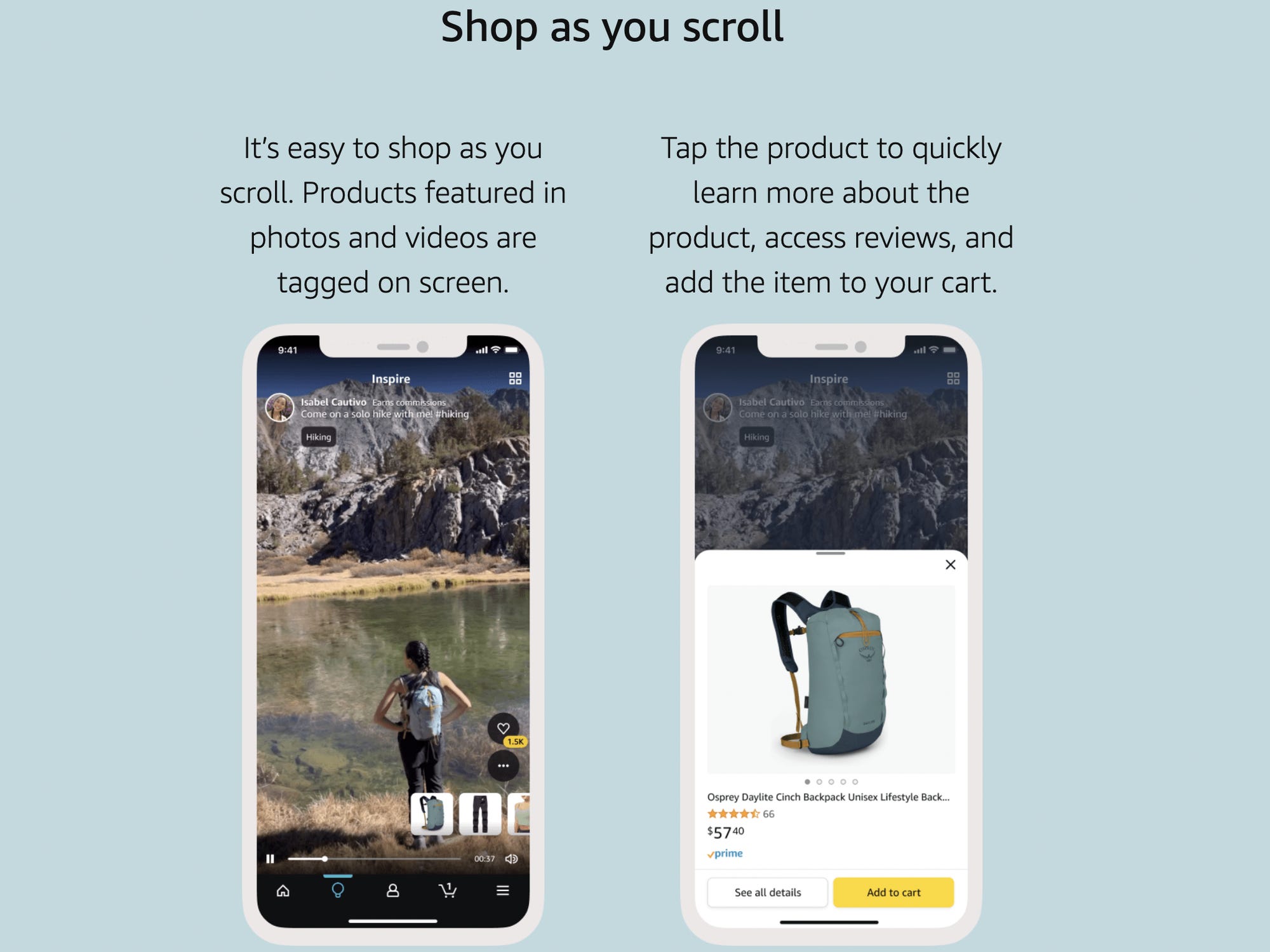 Amazon used its influencer program in recent weeks to generate buzz and increase content before launching its new feature publicly. According to people familiar with the process, Amazon offered the creators up to $250 for posting short vertical videos. The offer was intended to create videos in specific categories such as pets.
It is not unusual for Amazon to pay influencers for such launches; the Amazon Influencer Program was created specifically to run such limited-time incentives. These quiet paid incentives are similar to the Instagram Reels bonus program and YouTube Shorts payouts.
Between the end of 2020 and the beginning of 2022, Amazon used the program to recruit several YouTube and TikTok influencers to film content for Amazon Live, the company's live-shopping feature that allows creators to livestream directly on the app and sell products to fans.
The Amazon Inspire-App still is something new and it seems like Amazon is trying to figure out also how their own algorithm is working compared to TikTok's "For You Page". Users who access the feature for the first time are currently prompted to select one of 20 categories to help determine which videos they will be served. They can then view videos and photos in a feed similar to TikTok's. Users can also purchase or learn more about featured products displayed below the video. Inspire will "learn more about a customer's preferences through their interests and engagement in order to continue tailoring their feed of shoppable content," according to the company. Amazon also intends to expand the number of shoppable features, in-app functionality, and content.
When customers buy products featured in their content, the creators will earn a percentage of the sale, according to the company. This model is similar to those used by platforms such as LTK and MagicLinks.
Creators can repurpose content created for other platforms such as Instagram Reels, TikTok, and YouTube Shorts into an Amazon Shoppable video that features and tags products available on Amazon.
According to the company, Inspire began rolling out to select customers in the United States in December and will be available to all US customers in the coming months.
The TikTok-like Inspire format could lead to an increase in user-generated content (UGC) videos on Amazon. Depending on the final algorithm, Amazon Inspire could be a viable option for smaller creators.